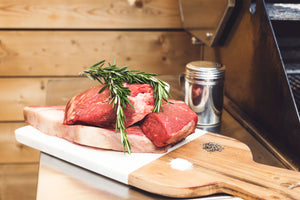 From our family farm to your family's table.
Retail Store
Come visit our local meat market and processing facility in York, NE. We oversee the whole process from our farm to your family's table.
All meat is processed in our USDA-inspected facility including steaks, roasts, ground beef, & specialty items. Open Monday-Friday 8:00am - 5:30pm and Saturday 9:00am -12:00pm.

Read more »
Shop Online
Our dry-aged, hand cut beef is second to none! Send a gift box to a loved one or order online for your own smoking and grilling needs this holiday season. Orders are carefully packaged and shipped in dry ice to maintain freshness and the high quality product you expect from McLean Beef!
"Just to let you know how much we are enjoying your delicious beef.  Everything was frozen when it got here.  I will highly recommend your business to all that are interested!!!" -Linda, CO
24/7 Vending Machine
Missed us during store hours? No problem! We have fresh meat available in our state-of-the-art vending machine! Accessible 24 hours a day, 7 days a week for your convenience!
Custom Beef & Pork Processing
McLean Beef Cafe
Now serving breakfast & lunch Monday through Friday! Stop in and build your own burger, pick your own steak, patty melt or have a hot beef sandwich. We offer meals to go or dine in. Call ahead and we'll have your order ready.
Breakfast:
Mon-Fri 8:00 am - 10:30 am
Breakfast Menu

Lunch:
Mon-Fri 11:00 am - 2:00 pm
Lunch Menu

Call 402-362-0055 to order!
More information and menus »
Bulk Beef & Pork
Pre-order quarter, half and whole beef. Locally-raised and finished beef butchered at our state-of-the-art processing facility.
This is Nebraska Beef.
We are the Beef State. The nation's heartland is known for its rich fertile soil, bountiful rains and family farms. Our corn fed, dry aged beef is a quality product of Nebraska. At McLean Beef, we strive to make all of these qualities available at one place which means that we provide good tasting wholesome beef.
McLean Beef is corn fed Nebraska beef! We have been in business for over 70 years. All of our beef is dry aged and hand cut. If you like home grown, family oriented, small farm, corn fed beef then you have come to the right place.
3208 S. Lincoln Avenue York, NE 68467